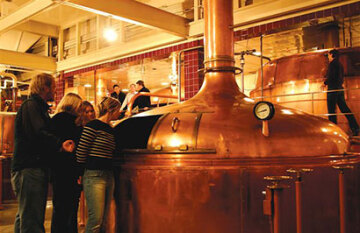 Christchurch to Dunedin by InterCity Coach
Leaving Christchurch early, you will cross the vast Canterbury Plains as you head South, crossing many braided rivers that start their life as glacial melt water high in the Southern Alps. New Zealand's longest bridge at Rakaia crosses such an example. Pass through the towns of Timaru followed by Oamaru, most famous for its buildings constructed with the unique locally quarried white stone. Continue along the coast and into the city of Dunedin.
Dunedin Coach Stop to Accommodation Transfer with Iconic
On arrival into Dunedin you will be met from your coach and transferred to your accommodation.
SUGGESTED ACTIVITY - Elm Wildlife Peninsula Encounter Standard Tour
This multi-award winning, scheduled, daily, 'small group' tour departs from Dunedin city in the mid-afternoon for the Otago Peninsula wildlife 'hotspots'. The tour combines tourism and conservation in a symbiotic relationship and provides absolutely unrivalled viewing of estuarine and marine wildlife. Your knowledgeable guides will inform you of activity being viewed and visit places where the best possible viewing of Hooker's Sea lions, Yellow-eyed Penguins, Blue Penguins, a breeding colony of New Zealand Fur Seals and Royal Albatross can be had. A further 25-30 other estuarine and marine bird species are seen during the experience. Close up unobtrusive viewing from beach locations and strategically placed observation hides is guaranteed.
SUGGESTED ACTIVITY - Speights Brewery Tour
Founded in 1876, the Speights Brewery still occupies its original Dunedin site - with several of its buildings dating back to the late 1800's. One of the only remaining 'gravity breweries' in the world, your 60-minute tour will take you through its inner workings. You'll also have a chance to taste six different beers as well as bottle, cap and brew your own personal Speights Gold Medal Ale - the brewery's flagship beer.