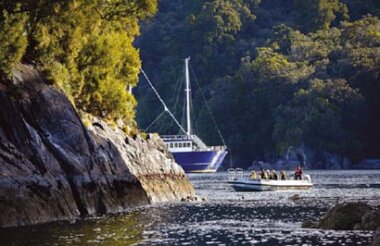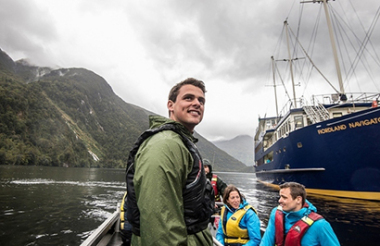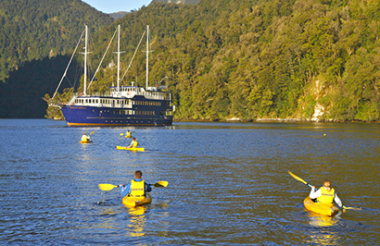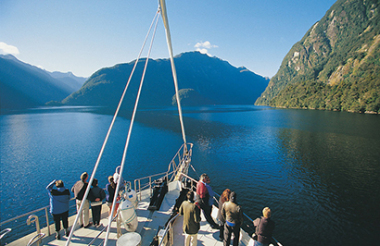 The Fiordland Navigator offers a very special dinner, bed and breakfast wilderness experience. Real Journeys Doubtful Sound overnight vessel, the Fiordland Navigator, is designed along the lines of a traditional New Zealand coastal trading scow to reflect Fiordland's heritage. The purpose built vessel accommodates passengers either in private cabins with ensuite bathrooms or in quad-share bunk style compartments with shared bathroom facilities. The vessel has spacious deck areas for viewing the wilderness scenery and wildlife of Doubtful Sound. Of particular interest, if sighted, are fur seals, dolphins, and in season, rare penguins.
Activities include kayaking and excursions in the tender vessels (stabicraft) to explore the coastline.
Following a short cruise across beautiful Lake Manapouri and a coach trip over Wilmot Pass, you will board the Fiordland Navigator at Deep Cove, Doubtful Sound.
There is plenty of time on your overnight cruise to enjoy the stunning views and to discover the hidden arms of Doubtful Sound. Fur seals and bottlenose dolphins are often seen and at times, rare penguins can be observed. There is also time for you to kayak around the shoreline or go exploring in the tender craft with our nature guide. As the shadows lengthen we'll drop anchor at a favourite mooring for the night. After the days activities, enjoy a delicious evening buffet meal in the spacious dining saloon.
The Fiordland Navigator is purpose built for cruising in the fiords. The vessel offers spacious viewing decks, a comfortable dining saloon and observation lounge. You have the choice of private cabins with ensuite bathrooms or shared bunk-style accommodation.
30 kayaks and 2 tender craft
Three course buffet dinner & cooked breakfast
Capacity - sleeps 70
18 private cabins with ensuite bathrooms and 8 quad share bunk -style compartments