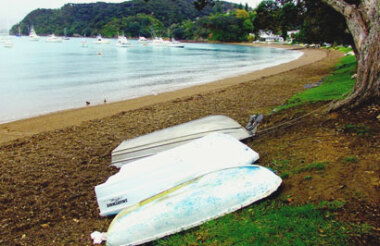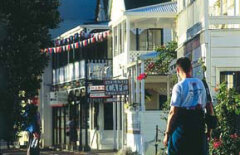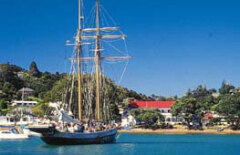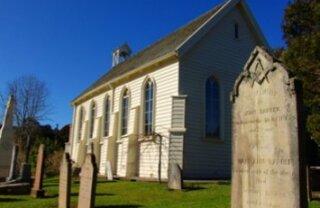 Russell is a pleasant 15 minute ferry ride from Paihia. The town is a quaint and very quiet place with just a few shops, cafes, restaurants and a range of fine accommodation. That hasn't always been the case though as its 19th century nickname will testify. "The Hell Hole of the Pacific" was a renowned spot for whalers and traders to enjoy their shore leave! Following the signing of the Treaty of Waitangi, Russell briefly became the capital of New Zealand, but during the Northern Wars the town was virtually destroyed and the capital subsequently shifted to Auckland.
The Christchurch is just a few minutes walk from the ferry terminal and is New Zealand's oldest house of prayer. It still has bullet holes sustained during the Northern Wars! Marlborough Hotel sited on the waterfront proudly holds New Zealand's oldest liquor licence. Incredible views of the Bay and its islands can be enjoyed from Flagstaff Hill. This is the site of the Nga Puhi chief Hone Heke's notorious flag-pole protests. The current flag-pole is the fifth to be placed there after he had ordered destruction of the previous four to protest the hanging of Maketu and broken treaty promises.
Russell is also home of the Bay of Islands Swordfish Club. It's the oldest game fishing club in New Zealand and home of the world's largest striped marlin ever caught with rod and reel at 243 kg (536 Ibs). Many big game fishing and sightseeing charters operate and pickup from Russell.