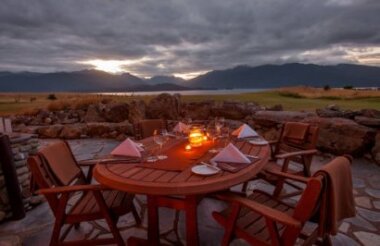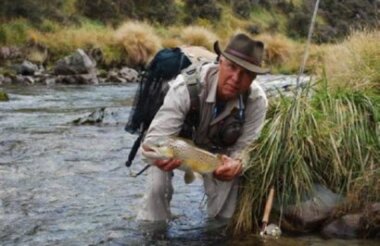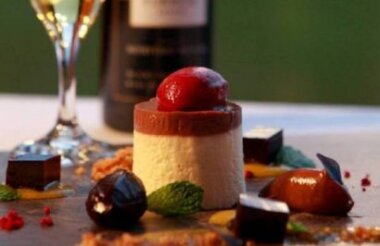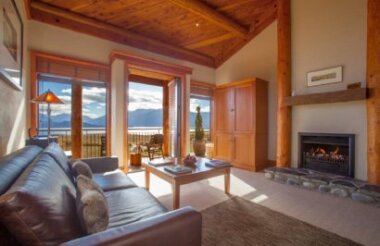 Set on a superb site with commanding views out across Lake Te Anau this is a rural setting with rolling grass lands surrounding the Lodge, Lake Te Anau being a mere ten minute walk away. Across the lake to the west lie the mountains of Fiordland National Park, an area of over three million acres of untouched wilderness and part of the much larger South West New Zealand World Heritage Area.
Dining at Fiordland Lodge
The enjoyment of food and wine is integral to the experience on offer at Fiordland Lodge and the use of quality ingredients being seasonal and regional and largely organic are fundamental to their cuisine philosophy. Food is a focal point at you'll be hard pressed to find something on the menu that isn't homemade or locally grown. Every item on the menu hails from the surrounding land, as an example within five minutes of the lodge there are at least 10 rivers that have fresh watercress sprouting and wild black berries. Items such as the breakfast jams will have been plucked from the onsite garden, venison and rabbit sourced from the local hunters themselves. Fresh organic vegetables, greens, herbs and eggs are harvested daily from the huge onsite vegetable garden so each season nature offers a new palette for the kitchen team to create dishes. Chef Loughnane is dedicated to sourcing the freshest of ingredients, creating relationships with local farmers and smaller producers and saturating the dishes he creates with local Fiordland and Southland ingredients. A changing evening menu also means that guests get to experience as much of New Zealand's wonderful food as possible.
Activities available from Fiordland Lodge – enquire for current pricing
Guided Fly Fishing - Fiordland is world renowned for the quality of its fly fishing in New Zealand. The crystal clear unpolluted waters are managed as a wild fishery producing good stocks of large Brown and Rainbow trout. Fiordland Guides specialise in upstream sight fishing and all fishing is catch and release. Over 40 uncrowded rivers and streams are within 1.5 hours drive of the Lodge.
Guided Nature Walks -there are a wide choice of scheduled trips available from half day walks every day of the week to interesting local areas, some of which are rich in local history, to hikes of a number of days or more into the remoter regions of Fiordland.
Conservation Gold Sponsor - donations of $400 or more towards the Kepler Peninsula conservation project. Beginning with the 'box seat' in an early morning helicopter ride, you will join a local volunteer for a day on the Kepler Peninsula checking the pest trap line. You will be required to assist as a scribe, noting any wildlife along the way. This is a unique full day experience walking the 8km track through pristine native beech forest, checking traps along the way. The walking is leisurely with frequent stops.